Announcing Book of Secrets 21 Bonus Stack to protect your affiliate link
Marlon here.
Book of Secrets officially launched today with a
big splash of 21 bonuses — ONLY if they go to
a secet page via your affiliate link.
Send your folks to THIS page and you'll be giving
them 21 bonuses when they snag my new Book of Secrets
before this Friday 10/25 at 11:59 p.m.
There's a countdown timer so a lot of urgency and
it locks in your affiliate link since the main
main does NOT offer the stack.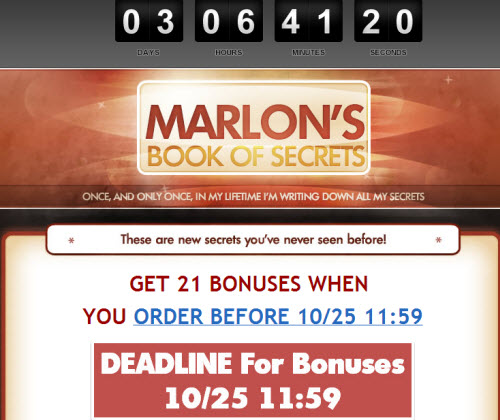 ———— Swipe Copy ————-
Dear Customer,
What if you could listen in like a fly on the wall
as an Internet legend swaps secrets with the powerful,
the famous and the wealthy?
And what if you got 21 rockin' bonuses just for
snagging it via my affiliate link?
That's right…21 fabulous bonuses just for snagging
Marlon's super powerhouse offer.
Go here before 10/25 at 11:59:
http://www.getyoursales.com?p=YOUR-ID-GOES-HERE&w=BOS21
Sincerely,
————- End Swipe —————–
If you need anything contact me at:
http://www.getyoursupport.com
Best wishes,
Marlon